Sample fresh, tasty produce from Ringwood's own private kitchen garden.
When Ringwood Hall was a private residence around 200 years ago, there would have been a large team of gardeners cultivating produce from the kitchen gardens for the family of the house to enjoy. The last owner of Ringwood Hall who used this magnificent building as a private residence was Charles Paxton Markham. Charles was the grandson of the famous Joseph Paxton who designed the gardens at Chatsworth House and the famous Crystal Palace in London. Although there is no documented evidence to confirm that Joseph Paxton had any links to Ringwood Hall, other than being grandfather to Charles Paxton Markham, it does make you wonder if there was any influence from him with regards to the gardens. The general concept of the grounds is very similar to Chatsworth House but on a far lesser scale.
Today the Victorian kitchen gardens are maintained by a team of gardeners under the watchful eye of our head gardener Derek Edwards. The kitchen gardens produce a wide variety of fruit and vegetables for consumption within the hotel's Coach House Restaurant. The crops are grown in 16 raised beds on a rotation basis to reduce the risk of pests and disease. This means we do not have to use pesticides so very few chemicals, if any, are used.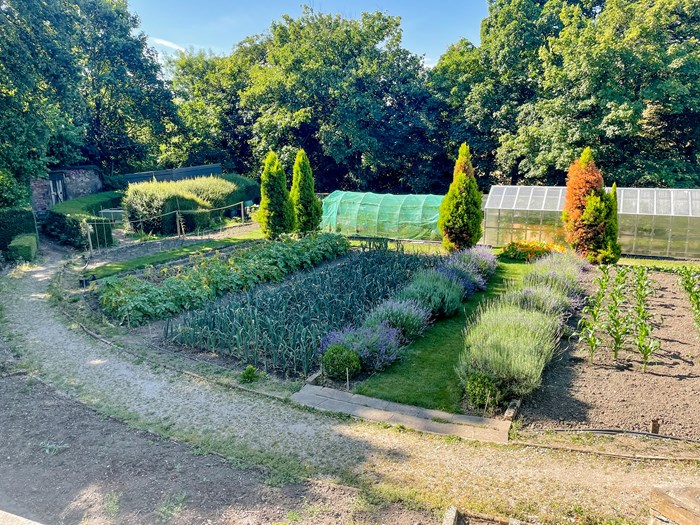 Our homegrown crops consist of potatoes, courgettes, green beans, leeks, onions and beetroot to name but a few. The kitchen garden now also houses a huge polytunnel, where we hope Derek and his expert team will grow fresh tomatoes, peppers and cucumbers for use in our kitchen. It will also serve to propagate bedding plants for the summer hanging baskets, and provide a range of delightful salad produce for the hotel throughout the summer season. All the produce that is grown in our Victorian kitchen gardens and polytunnel is used within the hotel, which not only makes our food beautifully fresh and tasty, but also enables us to cut our carbon footprint.
"Great Visit - Ringwood Hall is how hotels should be. Amazing staff, excellent rooms, lovely food and a real cosy lovely building in beautiful grounds. Will look forward to another visit in the future.